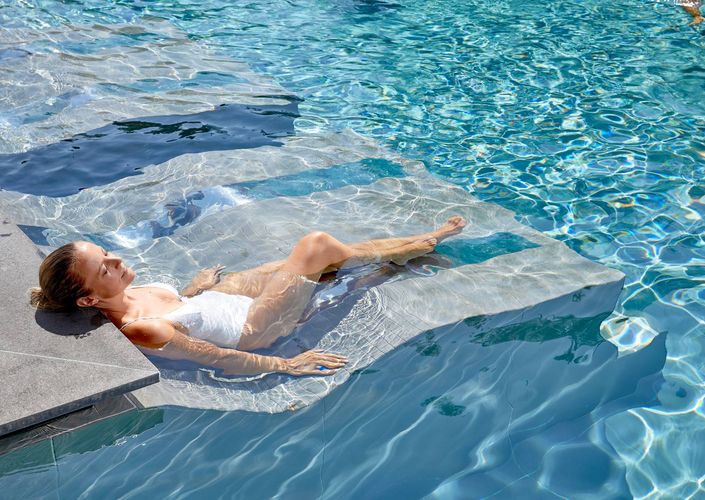 5,000 m² garden landscape.
580 m² water world.
Unlimited well-being.
Only in your hotel
with pool in South Tyrol.
No element touches us as water does. For this reason we have dedicated eleven different heated pools with a total of 580 m² at once to water in our wellness hotel in South Tyrol. Therefore, enough space to drift, go for a swim or enjoy the sensation of floating weightlessly above the water for a while. This works especially well in the salt water pool: let the mild salt water flow around you and give you a soft uplift. Our whirlpools – one in our adults-only area on the roof of our hotel with pool in South Tyrol and one in the Family Spa area – will massage you with gentle water jets, while in the sports pool, you will get in shape. All of the pools in our Sky Spa are heated to 34 °C – just as the pools in the Family Spa.
There, little mermaids and pirates will find a children's adventure indoor pool with various water games and slide, a whirlpool and much more. After a dive or doing the crawl, there is nothing more enjoyable than drying off in the sun – and there is no better place to do so than on the large panoramic terraces on our roof or at your personal feel-good spot outdoors. And by the way: the green spaces with more than 5,000 m² are also part of our wellness concept.