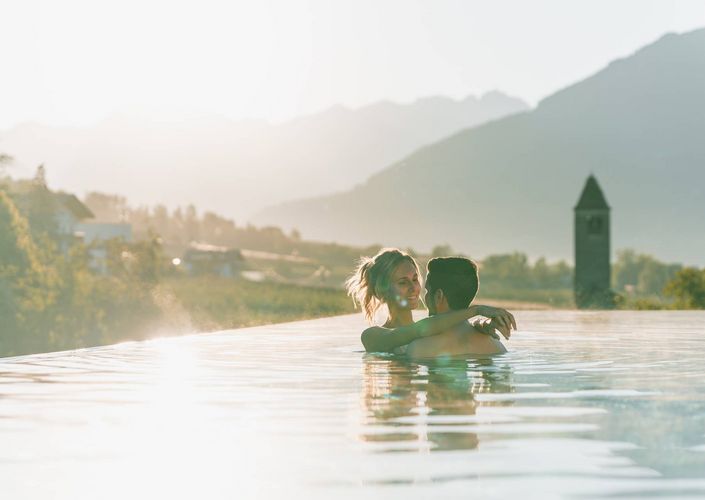 Relax in our adults-only Sky Spa of the hotel, South Tyrol. Where heaven seems to be closer.
The perfect day of your romantic holidays starts with an extensive breakfast. Sample fresh bread, crunchy mueslis, all kinds of delicacies from South Tyrol and fresh juices in the sunshine of our Mediterranean terrace at the Koi pond. Afterwards you can explore the natural scenery of Naturno actively or indulge in our spacious Wellness and Water Worlds. You can arrange the activities, perfectly suiting your wishes and individual taste, to enhance your experience.
Whether you're on honeymoon, newly in love or simply dreaming of an escape from the everyday, you will find the perfect setting for your romantic getaway in our 4-star-superior hotel in Naturno. Experience magical time for two in our comfortable rooms, in the cosy suites, in the panorama whirlpool of our Sky-Spa or indulge in a romantic candle-light dinner. But there is even more: you can also go on exploration tour around Merano, where you can conquer the mountains, stroll through the idyllic valley or enjoy the beautiful landscape on winding paths along the meandering traditional water channels the 'Waal'. Take your time to enjoy moments of self-care, shared with the one you love in your pleasant getaway.