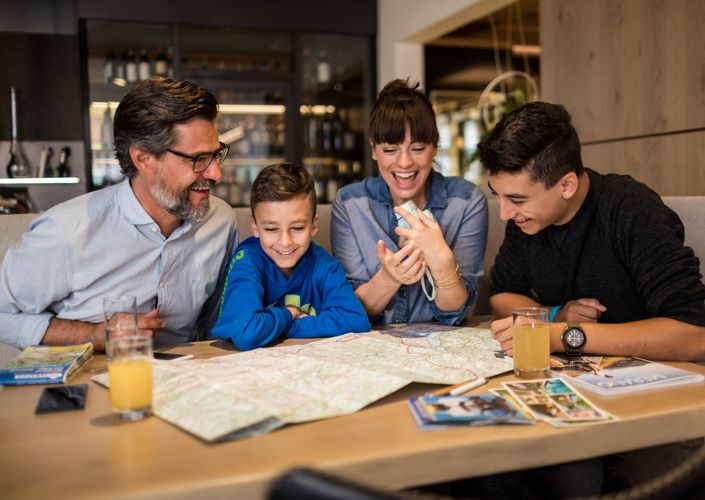 Your family holiday
in South Tyrol:
Time for yourself.
Time for your children.
Time for everyone.
That's how it is: you would like to have everything at once. Great experiences with the kids. Quality time with your sweetheart and also a little bit of peace, quiet and relaxation all for yourself. But how can one holiday manage to please all of these desires? Come and find out: with the DolceVita Hotel Feldhof and your family holiday in South Tyrol. When staying with us, a holiday with children in South Tyrol will become a firework of discoveries, joy and relaxation. And with our special rooms and suites, there is enough place for pure holiday enjoyment. With our separated wellness areas, the children can treat themselves to some time off from adults. They don't mind at all: in the meantime, mum and dad can go for a jog through picturesque villages past grapevines, apple trees and South Tyrol's most beautiful panoramic views.
In the Family Spa, parents can enjoy some wellness time together with their children. The swimwear-only area with organic sauna, steam bath and more is the ideal place to introduce the kids to the art of feeling good in the DolceVita way. The reason why your children will ask to return to the "Feldhof" each and every year after your first stay: our popular children's entertainer as well as, in particular, the large outdoor playground, the 180 square metre adventure playroom, the children's pool with the 35 metre water slide in the garden, the children's indoor adventure pool with various water features and, of course the brand new 80 metre long indoor tube water slide.